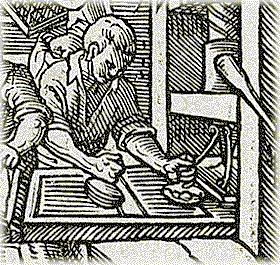 "Composed on the Tongue"
An Experimental Letterpress Printing Workshop
Jacqueline Gens will teach a six-week introductory letterpress printing workshop at Great River Arts Institute in Bellows Falls, Tuesday evenings 6:30-9:00 PM beginning October 4-November 8. Although open to everyone, the course will address the interests of writers, especially poets.
The class will explore various formats using metal or wood type for executing literary compositions into hand-printed broadsides, accordian books, postcards, chapbooks, or simple portfolios. We will also experiment with various writing
techniques suited to spontaneous composition with metal and wood type such as haiku, Tibetan doha, slogans, and cut-up methods. Printmakers can experiment with creating text to accompany their plates or to make direct impressions on prints and monotypes. At the conclusion of the six week program, participants should feel comfortable working on their own.
Letterpress printing, the primary printing technology for over 500 years, while no longer used in commercial printing, today is widely appreciated as an elegant method for creating handmade books and fine arts editions.
The aim of this class is to cultivate a lively exploration of letterpress techniques. No artistic or literary background is
necessary. Open to begininers and advanced alike.
Great Rivers Arts Institute's printshop includes a Vandercook Universal I, a large selection of metal type and ornaments, some wood type and all necessary tools for setting and printing metal type.
Cost for the program including materials fees: $200
Limited to 6 people. To register, please contact the Great River Arts at 802.463.3330
Contact me for the next scheduled workshop at jgens@sover.net
Jacqueline Gens has an MFA in poetry from New England College. She has
studied letterpress printing at the Book Arts Center in New York,
The Great River Arts Institute in Walpole, NH and at the Wisconsin
Center for Book and Paper Arts over the past decade.